CNC SUPREME PROFILE SURFACE GRINDER MACHINE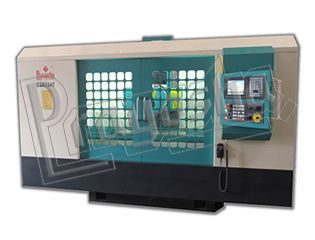 We are marked as one of the reputed manufacturer, supplier and exporter of the CNC surface grinder machines. Our machines are fabricated with international standard and tested as per IS 2743: 1992. CNC fabrication has helps us to offer such range in India and abroad. Our CNC premiere profile surface grinder machines are equipped with digital servo motor and counter weight balance device. Our surface grinders with CNC fabrication are available with suitable pollution control system for the better workability of machine and also for the operator.
Different models of machines contains different table size vary from 300 mm X 750 mm to 300 mm X 300 mm X 1500 mm. range is available with maximum longitudinal travel from 850 mm to 1575 mm. It contains maximum cross transverse from 350 mm to 450 mm for various models. Maximum spindle center height above table is of 550 mm. Totally enclosed, independent motor is provided for the spindle. We provide standard optional controls. 5 hp spindle motor is provided for punctual finished job. For even and easy operations of machine it contains wide base guide rails. "V" designs of the longitudinal ways of the machine help it to provide fine finished and precise output. To improve competent cycles of finishing, suitable dust control system is provided.
Digital display
Electro-magnetic chuck
Vibration absorbing quality
Advance lubrication system
Dust collector
Noiseless
High precise works
Compact model
Anti-friction bearings
Precise machined parts
APPLICATION :